Arthur's FitBees Journey: From Fishing to Rocking Horses
Arthur, a once active and lively fisherman and woodworker, faced a distressing situation after being hospitalised with pneumonia at 90. His fitness had significantly declined, making simple tasks challenging. But thanks to FitBees and the dedicated efforts of Jackie Bell, the FitBees Coordinator, Arthur's life was about to change.
FitBees is a ground-breaking initiative by Tendertec and Community Housing Technology Enabled Care Service, aimed to promote active and healthy lifestyles among underrepresented groups. The FitBees app is a social app using cutting-edge technology like home heat sensors and "smart" clothing to monitor activity levels, provide motivation, and foster social connections.
When Arthur's fellow resident informed Jackie about his struggles, she wasted no time enrolling him in FitBees. Although Arthur was making progress, his heart wasn't fully invested. Digging deeper through the interactions facilitated by FitBees, Jackie discovered Arthur's ingenious invention—a fishing float that addressed common problems. Worried about his knowledge being lost, Jackie connected with Urban Hax, a renowned Makerspace, to develop Arthur's float.
Motivated by the opportunity, Arthur doubled down on his fitness routine. Jackie promised to take him to the Aldridge Shed, where Urban Hax would assist with his fishing float once his fitness improved. Under Tendertec's technology, Arthur gradually increased his activity levels until he was ready for the next step.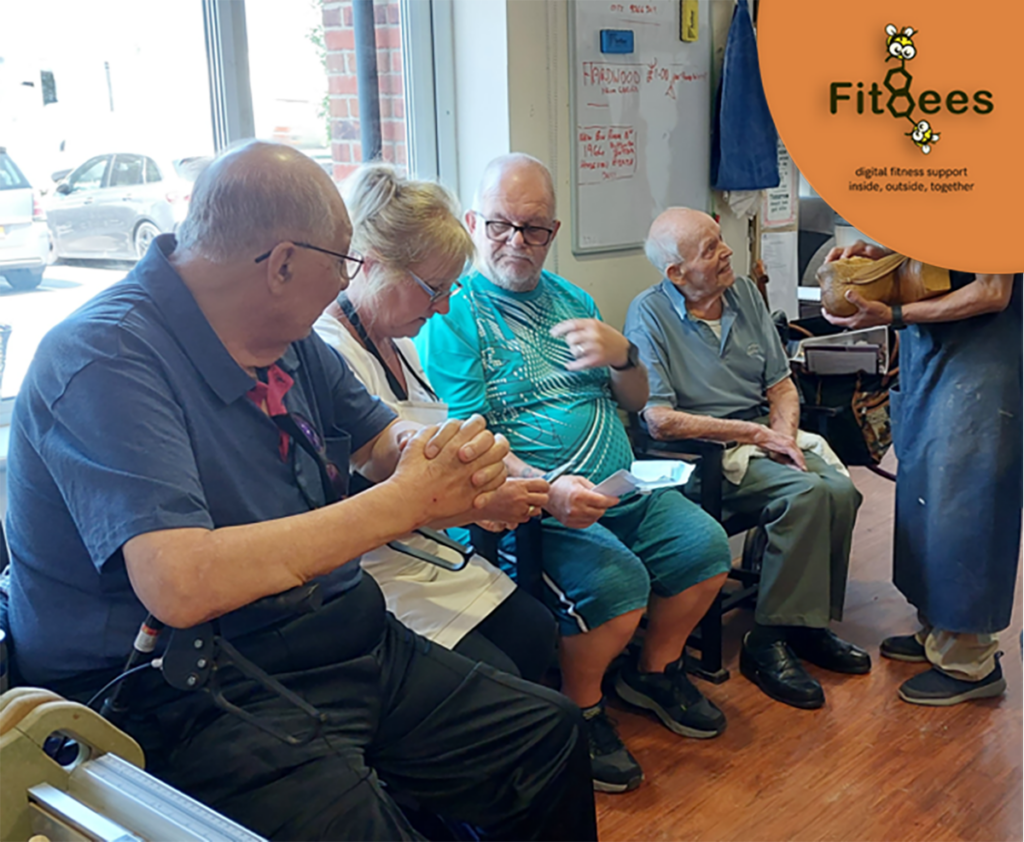 Finally, the day arrived for Arthur and Jackie's journey to the Aldridge Shed. Inspired by the vibrant atmosphere, Arthur felt a renewed sense of purpose. He even planned to collaborate with the woodworking shed at Berrington Court, expanding his social circle and reigniting his passion for woodworking. Empowered by the visit, Arthur set his sights on building a magnificent rocking horse, envisioning grand plans for the future.
FitBees' focus is on facilitating partnerships between people with care needs, their circle of support and their wider community to remove barriers to activity. Using inclusive technology, FitBees helps users engage with community-based activities matched to their needs and keeps them motivated and reassured in their journey so they can stay on track in the long term.
Arthur's journey showcases the transformative power of initiatives like FitBees. With support and technology, age becomes insignificant, and one's passions and abilities can thrive once more. Regardless of age or circumstances, every individual has the potential for personal growth and fulfilment.
We look forward to following Arthur's progress and sharing his newly found zest for life.
Would you like to become a FitBee?
We are looking for people who are willing to participate — to talk with us, try our technologies, test our ideas, and give us honest feedback and suggestions so we can learn what does and doesn't work for you.
You don't have to be fit and active already, but ideally you need to be able to stand and walk around in your home unaided. You might already do some physical activities, you might move around very little and would be interested in doing more, or you might really dislike the idea of exercising. Whatever your starting point, we would like to understand more about your daily routines and how our service might help people like you to be more active and more connected, so that you gain the benefits of that.
Join us at: https://tendertec.org/fitbees/ or drop us an email at contact@fitbees.org
About FitBees

FitBees is a UKRI funded project aimed at enhancing physical activity and promoting social connection among under-represented groups. It combines Tendertec's connected care platform and AI home sensors with third-party wearable technologies, motivational encouragement, online content, and community connections to support activity. FitBees brings digital fitness and social connectivity directly to people's homes, fostering inclusivity and convenience. FitBees is committed to addressing health disparities and empowering individuals from diverse communities.
Join us at: https://tendertec.org/fitbees/