FitBees @ Centre for Health and Clinical Research Showcase Conference 2023
University of West England-Bristol present FitBees at CHCR Showcase Conference 2023

FitBees, the ground-breaking UKRI funded project bringing digital fitness support to under-represent groups was presented at the Centre for Health and Clinical Research Showcase Conference 2023. FitBees aims to promote physical activity and social connection within under-represented communities, while engaging the clinical and social care sector and academia.
The conference, held at UWE Bristol Frenchay Campus on Friday, 7 July 2023, provided an ideal platform for FitBees and our esteemed partners at the University of West England-Bristol to share our work on the feasibility, acceptability, and usability of FitBees. With a focus on improving the health and well-being of South Asian communities, the project highlights the urgent
need to address insufficient physical activity among the aging population.
The poster presentation emphasised the alarming statistics that 34% of men and 42% of women in England suffer from deteriorated health due to insufficient physical activity. The South Asian community, representing 7.5% of the UK's population,
is particularly at risk for conditions such as Type-2 diabetes and cardiovascular disease, making it crucial to address their low engagement in regular physical activity.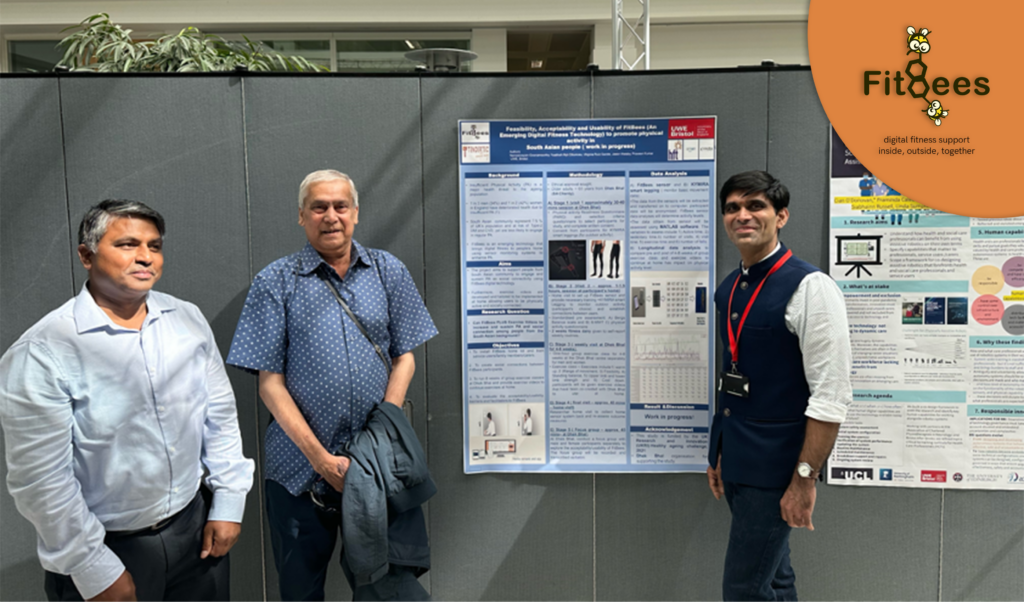 FitBees' emerging technology platform brings digital fitness directly to people's homes through sensor monitoring systems. By providing convenience and accessibility, FitBees aims to enhance physical activity levels and foster social connections among individuals. The project aligns with the University of West England's commitment to addressing health disparities and promoting inclusivity.
Collaboration between FitBees and the University of West England-Bristol has resulted in the development of tailored exercise videos and the installation of FitBees home kits. The project is proceeding with clinical testing via running group exercise classes for 4-8 weeks, where participants engage in a range of exercises targeting different aspects of physical fitness. FitBees also evaluates the acceptability and usability of their technology, identifying barriers and facilitators to its adoption.
Our engagement with the clinical and social care sector, academia, and under-represented communities demonstrates the FitBees consortium dedication to creating a positive impact on overall well-being. By empowering individuals from diverse backgrounds to embrace physical activity and social connection, FitBees is driving positive change in the field of digital fitness.
The project was made possible through funding from UK Research and Innovation's Healthy Ageing Challenge, showcasing the importance of research and innovation in addressing pressing health concerns. FitBees also acknowledges the support of the Dhek Bhal organization, which played a pivotal role in the project's implementation.
Tendertec and the University of West England-Bristol are excited to continue their collaboration and explore further opportunities to advance digital fitness technology, engage the wider public, and empower communities to lead healthier lives.
About FitBees

FitBees is a UKRI funded project aimed at enhancing physical activity and promoting social connection among under-represented groups. It combines Tendertec's connected care platform and AI home sensors with third-party wearable technologies, motivational encouragement, online content and community connections to support activity. FitBees brings digital fitness and social connectivity directly to people's homes, fostering inclusivity and convenience. FitBees is committed to addressing health disparities and empowering individuals from diverse communities.
Join us at: https://tendertec.org/fitbees/