PRESS RELEASE
1st July 2022
TENDERTEC WINS UKRI FUNDING TO ENCOURAGE PEOPLE IN UNDER-REPRESENTED GROUPS TO INCREASE PHYSICAL ACTIVITY
AI startup Tendertec has won UK Research and Innovation (UKRI) funding for £1.8M project to encourage sustainable physical activity for under-represented groups,
In partnership with Hft, the Community Housing, KYMIRA and the University of West England – Bristol, Tendertec will use the funding to support the development of FitBees, a new digital fitness support service for under-represented groups currently not engaging with the digital fitness market.
The funding is part of the UKRI Healthy Ageing Challenge supporting the delivery of market innovations within the growing healthy ageing domain.
DIGITAL FITNESS SUPPORT SERVICE FOR UNDER-REPRESENTED GROUPS
Tendertec, the start-up bringing connected care to the world, announced today it has been awarded a grant from the UK Research and Innovation (UKRI) to support the development of FitBees, a new digital fitness support service for under-represented groups.
The £1.8M project is taking on the challenge of encouraging sustaining physical activity for under-represented groups not currently engaging with the digital fitness market. The funding is part of the UKRI Healthy Ageing Challenge supporting the delivery of market innovations within the growing healthy ageing domain.
George MacGinnis, Healthy Ageing Challenge Director at UK Research and Innovation, said:
"Many of us are living for longer and want to make the most of the opportunities in later life, which can include continuing to work and volunteer. Despite this, the market for products and services which genuinely meet the needs of older people is underdeveloped.
"Innovators need a better understanding of the rich and varied lives people lead as they age, moving away from a utilitarian view of providing only what they think older people need. That is why a commitment to inclusive design is so important it provides an understanding of how people want to live their lives and what they would most like, to make the most of their time.
The funding will be used to support the development of FitBees and has a strong user-centred design process to ensure that FitBees meets the needs of its customers.
Other partners in the project include learning disability charity Hft, technology enabled care provider Community Housing, University of the West of England and KYMIRA, a company producing patented smart garments that provide biomechanical assessment of the lower extremities.
Dr. Afroditi Konidari, CEO and Co-Founder at Tendertec, said: "We appreciate the trust UK Research and Innovation has put into our project, and we are honoured to be leading a consortium of partners that have the skills, experience and dedication to help under-represented groups overcome challenges to becoming more physically active. In the post-pandemic era, we need to find new ways to support people aged 55+, especially those feeling marginalised, to become and remain physically active and socially connected. We are working closely with our consortium to bring a game changing product into the digital fitness market".
ADDRESSING THE INACTIVITY EPIDEMIC
Today, over 40% of people aged 55 and over are inactive costing the NHS almost £100M annually. During the COVID-19 pandemic lockdowns, one million more became inactive.
Inactivity is most acute across under-represented groups who are not engaging, physically or digitally, with a market that is focused on the already motivated.
The FitBees service addresses this significant, and important, market gap. Every £1 spent on community sport and physical activity generates nearly £4 for the UK economy and society. FitBees is here to make sure that investment on digital fitness support reaches those who need it most.

The vision for FitBees is to become an exemplar to be replicated across the UK and help those people most likely to become inactive and socially isolated to reap the benefits of physical activity combined with social connection.
"People with learning disabilities often struggle to access mainstream online platforms," said Emma Nichols, Personalised Technology Manager at Hft. "There need to be more platforms like FitBees that are easy to use and provide people with learning disabilities with the same opportunities as everyone else.We are really excited to be part of such an innovative and inclusive project where the people we support are playing a central role in the development of this project."
DESIGNING A GAME-CHANGING INNOVATION WITH USERS
FitBees marks the first time Tendertec is using its disruptive technology to enter the digital fitness market. Tendertec's disruptive and integrated machine learning platform, Hestia, captures, reconstructs and shares incidents and living activities 24/7, enabling carers to monitor remotely a growing list of behaviours. Perfectly balancing privacy and high-resolution insights supporting prevention, Hestia moves carers from limited reactions to person-centred and preventive care in a few clicks.
As part of FitBees, Tendertec will be designing a new digital service combining Hestia's insights and wearable technologies to create motivational encouragement and social connections that support physical activities. FitBees is being co-designed to create a solution that empowers more people with personalised data-driven support and connections
"Everyone in the FitBees development team is focusing on the needs of the users. We're working together with a design thinking approach to explore how barriers to fitness and technology can be overcome – that's our challenge. It's a very exciting opportunity to work with specialists in care services and supported housing to improve people's lives." said user centred design co-lead, Lynne Elvins (Design Rally).
In the next 23 months, Tendertec will work with KYMIRA, Hft, the Community Housing and the University of the West of England (UWE), carrying a wealth of experience in working with under-represented groups, to ensure true co-production with users and support FitBees' inclusivity, functionality and user acceptance.
"Being part of the FitBees consortium is a wonderful opportunity for KYMIRA to work with another talented SME in the healthcare sector, Tendertec, alongside some of the best researchers, local authorities and charities in the country. Everyone brings a diverse range of skills that will make this project successful, by designing and delivering a service that will revolutionise the way we offer fitness opportunities for older people, with the target users heavily involved in the design and development of the FitBees platform" said KYMIRA CTO Phil Kunovski.
"We are pleased to be bringing our expertise in health technologies and smart sensor systems to this outstanding project, which will help increase physical activity among under-represented groups and reduce the burden on the NHS," said Dr Virginia Ruiz Garate, Associate Professor in Assistive Robotics at UWE Bristol. "Working closely with our talented consortium partners, we look forward to progressing with this project and co-designing a first-class digital fitness support service with users."
"As a Technology Enabled Care Provider, we are passionate about finding new ways to improve people's health and promote independence. The Fitbees project is an exciting, person focused, collaboration where we will be improving people's lives, as they help us to design an innovative digital offering. The end service will contribute in easing the increasing pressures on health and social care. We are honoured to be part of this process and look forward to seeing all our participants as they travel on their Fitbees journey". said Mitch Hyde, TECS Operations Manager at Community Housing.
Project Website, Register for our newsletter & stay up to date: http://www.tendertec.org/fitbees
Follow us on Twitter: @GetFitBees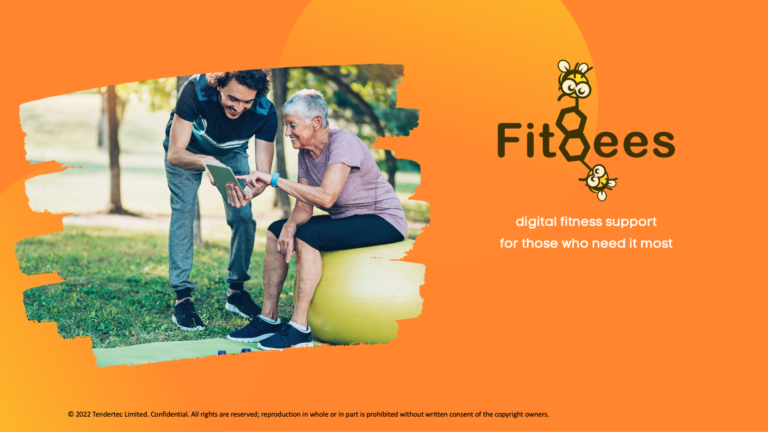 About Tendertec
Tendertec is the startup bringing connected care to the world. The award-winning team is developing solutions delivering better care, anytime & anywhere, through powerful A.I. Tendertec partners with leading research institutions, tech-enabled care providers and cutting-edge technology partners to research, design and bring to market the next generation of digital health and connected care technologies that will give one billion people a better ageing journey in the 21st century.
About Hft
Hft is a national charity and support provider that creatively supports more than 2,200 adults with learning disabilities across England and Wales to live the best life possible. Hft has its own personalised technology team, who have a wealth of experience in the use and implementation of technology for people with learning disabilities. The team offer a range of services including person centred assessments, training, advice and consultancy in the use of technology as well as having extensive experience in trialling new solutions.
For more information about Hft please visit www.hft.org.uk
For more Information about Hft's personalised technology service visit www.hft.org.uk/ptservices
About KYMIRA
KYMIRA is one of the world's leading smart textile companies and a multi-award-winning innovator. The team strive to solve and improve large societal issues and are working in partnership with leading institutions to research cutting edge wearable technologies and e-textiles, before commercialising these and bringing revolutionary technological products to market. The company works within the Medical, Sport, Military and Space verticals, across Business and consumer markets, blending technology with biology in perfect synergy, releasing and enhancing human ability.
About Community Housing
Community Housing is a social housing landlord situated in Wyre Forest, Worcestershire. Their Technology Enabled Care services has been in operation for over 30 years and is considered to be an exemplar service in the TECS sector.  They source and bring to market, innovative technologies to help make people's lives easier. They have a 24-hour life-saving monitoring and response centre based in Kidderminster and have over 26,000 service users nationwide. For more information and user stories visit www.communityhousingtecs.co.uk
About the University of the West of England (UWE Bristol)
 The University of the West of England (UWE Bristol) has a global and inclusive outlook, with approximately 30,000 students and strong industry networks and connections with over 1,000 employers. Research at UWE Bristol focuses on real world problems and the University plays a pivotal role in the regional economy. With over £300 million invested in infrastructure, buildings and facilities across all campuses, UWE Bristol is creating a place for learning that is innovative, ambitious, connected, enabling and inclusive. UWE Bristol is ranked 36th in the Guardian university league table, as well as 4th in the South West of England for student satisfaction.
About UK Research and Innovation (UKRI) 
Big challenges demand big thinkers – those who can unlock the answers and further our understanding of the important issues of our time. Our work encompasses everything from the physical, biological and social sciences, to innovation, engineering, medicine, the environment and the cultural impact of the arts and humanities. In all of these areas, our role is to bring together the people who can innovate and change the world for the better. We work with the government to invest over £8 billion a year in research and innovation by partnering with academia and industry to make the impossible, possible. Through the UK's nine leading academic and industrial funding councils, we create knowledge with impact.