Celebrating Learning Disability Awareness Week
THE TRUE USER-CENTRED DESIGN APPROACH OF FITBEES

Living with a learning disability doesn't define individuals; it empowers them! Let's bust some myths and celebrate Learning Disability Awareness Week! FitBees, a ground-breaking lifestyle project, is revolutionising access to the digital fitness world for individuals with learning disabilities through its innovative user-centred design approach.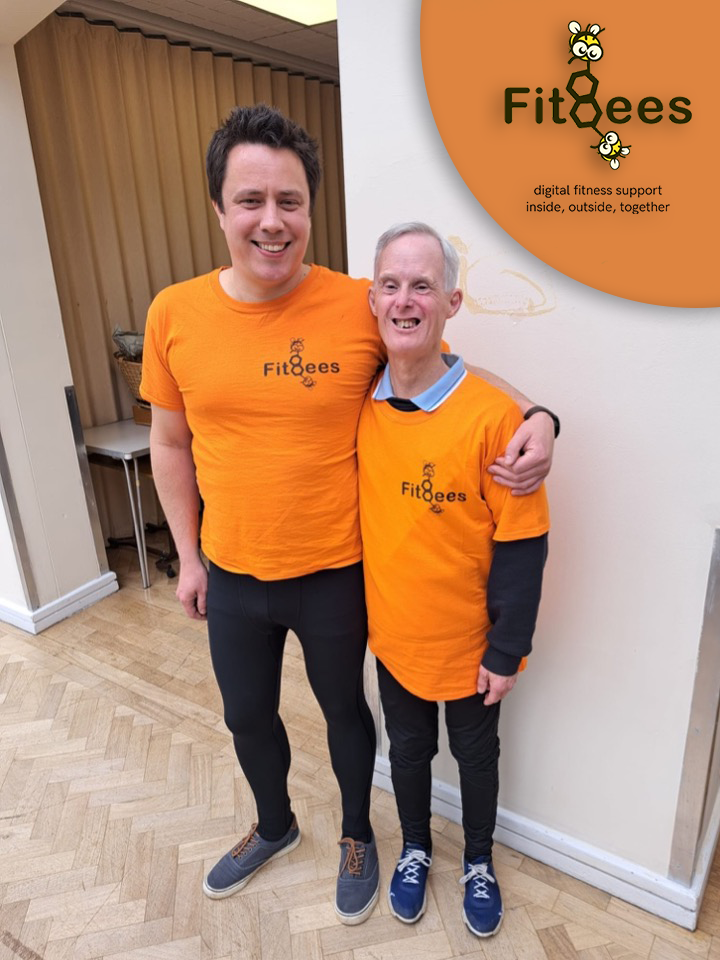 UNDERSTANDING USER NEEDS
At FitBees, our users are our priority as we believe in truly understanding the needs of our users. We have been closely working with individuals with learning disabilities, immersing ourselves in their lives to gain valuable insights. By installing sensors and wearable tech, and engaging in open conversations with our users and their support network, we capture feedback and co-design features and functionality together. Individuals with learning disabilities engage in lower levels of physical activity, have poor health, and have lower life expectancy than their peers. Engaging in habitual physical activity is protective while a sedentary or low-active lifestyle predisposes to serious lifestyle problems such as cardiovascular diseases, type-2 diabetes, obesity, and cancer. At FitBees, physical activities are tailored and monitored at sustainable levels of recommendations.
USER-CENTRED DESIGN IN ACTION
FitBees places user-centred design at the heart of its development process. By involving the learning disability community in every step, we ensure that their voices are heard, and their needs are met. We go beyond creating a fitness platform; we empower and motivate underrepresented individuals to take ownership of their health by increasing their sense of control and promoting a positive attitude to engaging in physical activity. Physical activity should be an enjoyable lifestyle habit, tailored and manageable by individuals says Dr. Faatihah Niyi-Odumosu, a senior lecturer at the University of the West of England, Bristol with experience in tackling health inequalities through physical activity promotion. At Fitbees, participants are invited to test equipment, join group activities, and provide feedback on prototypes, ensuring that their experiences and perspectives shape the development process.
"FitBees is driven by a profound commitment to user-centric design. Together, we sculpt a digital realm that resonates with the aspirations of individuals with learning disabilities, empowering them to embrace independence and nurture their holistic wellbeing. With unwavering pride, along with our partners, we stand as catalysts of this transformative journey, for people with learning disabilities"
THE IMPORTANCE OF EASY-READ DOCUMENTS
To ensure inclusivity, FitBees incorporates the expertise and guidance of Hft, one of the UK's largest charities supporting people with learning disabilities. We prioritise the development of "easy read" documents, making them simple, jargon-free, easily understandable, attractive, and enjoyable to read. With supporting images and legible font sizes, these documents facilitate comprehension and ensure that individuals can participate without exclusion. By adopting a "universal design" approach, FitBees creates an inclusive environment where all user groups can benefit.
BUILDING A COLLABORATIVE RELATIONSHIP
FitBees fosters a collaborative relationship with its participants, ensuring that they feel welcome, supported, and able to provide honest feedback. We understand that different individuals may have varying communication preferences, and we actively accommodate them. Whether it's assistance with completing diaries or alternative methods such as sending photographs, we adapt to our participants' specific needs. By remaining close to them, FitBees learns and continuously improves, fostering a collaborative relationship and positive attiude that supports co-design.
"Co-designing with the FitBees users has helped us to understand any barriers or limitations with our initial solution, but most importantly, how to address them before it is too late. It has also given us great insight into how different users with different needs may perceive or use technology in their everyday lives, and how we can ensure that we deliver a successful product."
FITBEES: TRUE USER-CENTRED DESIGN IN ACTION
At FitBees, we believe in the power of user-centred design to shape future products that meet the needs of people with learning disabilities. This is exactly how we do things at FitBees. By putting the user at the heart of our design process, we strive to create innovative solutions that improve the lives of individuals with learning disabilities.
Join us in celebrating Learning Disability Awareness Week and spreading awareness about the incredible work being done to break misconceptions and build an inclusive digital fitness world. Together, let's create a space where everyone feels welcome, valued, and empowered to achieve their fitness goals.
"FitBees is working with people with learning disabilities to create a digital space for them to connect and take more control over their own health and wellbeing. We are already seeing how it is empowering them to live more independent, happier lives. We are so proud to be a part of it and are so excited to see how it develops over the coming months."
Would you like to become a FitBee?
We are looking for people who are willing to participate — to talk with us, try our technologies, test our ideas, and give us honest feedback and suggestions so we can learn what does and doesn't work for you.
You don't have to be fit and active already, but ideally you need to be able to stand and walk around in your home unaided. You might already do some physical activities, you might move around very little and would be interested in doing more, or you might really dislike the idea of exercising. Whatever your starting point, we would like to understand more about your daily routines and how our service might help people like you to be more active and more connected, so that you gain the benefits of that.
Join us at: https://tendertec.org/fitbees/ or drop us an email at contact@fitbees.org
Collaborate with us
We are looking to speak to organisations who are willing to participate in our Steering Group and are representing and/or supporting older people, people with disabilities and those from ethnic minority backgrounds. We want to hear from organisations willing to share feedback about the barriers to physical activity, try our technologies, test our ideas, and give us honest suggestions so we can learn what does and doesn't work for under-represented groups.
Join us at: https://tendertec.org/fitbees/ or drop us an email at contact@fitbees.org